= empty($ahs) ? '' : $ahs ?>
= empty($ahe) ? '' : $ahe ?>
Einar and the Cursed City
Winner in the Preditors & Editors Readers' Poll for Best Young Adult Novel!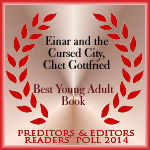 Sixteen-year-old Einar enters Jorghaven for dueling and desserts, but a curse has changed everyone except Barbara Bloodbath, who needs his help to free the city!
A young adult fantasy suitable for readers of all ages.
~~~
This ebook is in your choice of formats that work for almost every ebook reader and has no copy protection ("DRM"). Read it on any reader you want, any time.
We hope you enjoy the ebook! If you like it, please tell others to visit www.ReAnimus.com/1396
---
Returning Customers