= empty($ahs) ? '' : $ahs ?>
= empty($ahe) ? '' : $ahe ?>
The Millennium Blues
Wow, the third millennium is off to a great start, the world didn't end; time to take a break and relax. Well, not exactly. You thought you were safe? Think again! Something much, MUCH, MUCH worse is ahead. The new millennium will bring nothing but disaster and destruction. As six unique people rush feverishly to resolve catastrophes both personal and otherwise, they cannot ignore the loudly ticking clock that will bring THE END OF THE WORLD. And this time its no psychic premonition; it's more real than you've ever dreamed.
The Millennium Blues offers an engrossing drama about mass panic observed with a dispassionate eye and reported in careful, poetic prose. It is a novel not just for today but for years—and millennia—to come.
About the Author
The James Gunn Library
The authorized site for all of the SFWA Grandmaster's books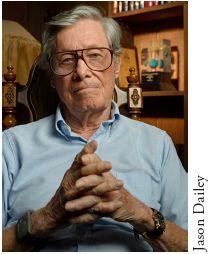 James Gunn is the author of more than thirty books, including the Hugo Award-winning nonfiction work Isaac Asimov: The Foundations of Science Fiction and the novel The Immortals, on which the television series The Immortal was based. Other novels include The Listeners, The Joy Makers, and Kampus. He also has collaborated with other authors, most notably with Jack Williamson on Star Bridge. He was named a Grand Master by the Science Fiction and Fantasy Writers of America in 2007.
Mr. Gunn is also the editor of a series of anthologies tracing the history of science fiction, The Road to Science Fiction, and is a past president of The Science Fiction Writers of America. He is professor emeritus of English and was the founding director of the Center for the Study of Science Fiction at the University of Kansas. He is the winner of the Pilgrim Award for lifetime achievement in science fiction scholarship, and is a past president of the Science Fiction Research Association. He passed away in 2020 at the age of 97, still writing till the last.
~~~
This ebook is in your choice of formats that work for almost every ebook reader and has no copy protection ("DRM"). Read it on any reader you want, any time.
We hope you enjoy the ebook! If you like it, please tell others to visit www.ReAnimus.com/1643
---
Returning Customers