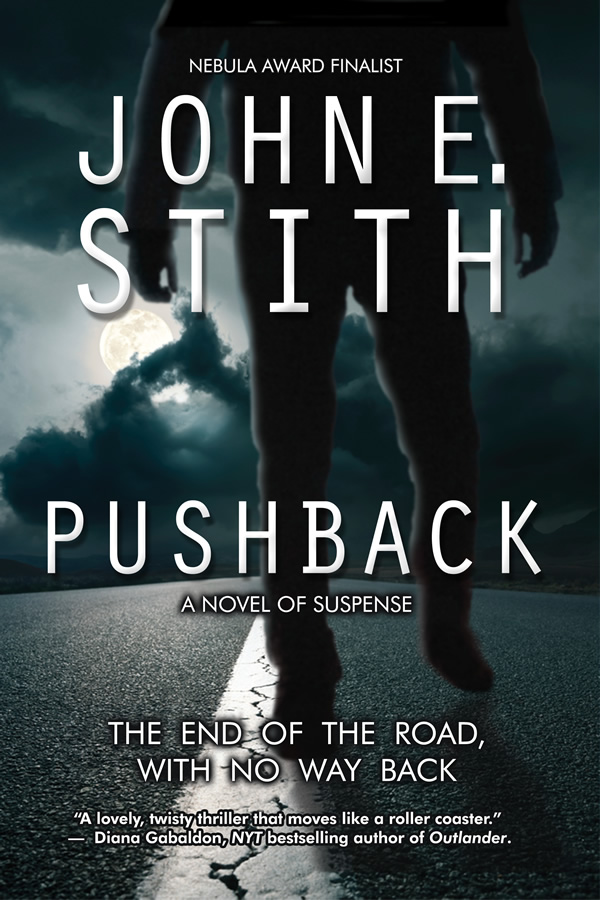 Pushback
Dave goes to his high school reunion for his very small school where he knew everyone... and nobody at the party was in his class, nor is he shown in the photo of everybody in the graduating class. He's brought his new girlfriend with him, who's understandably now wondering about if he's right in the head. He knows he is (PTSD notwithstanding) but he doesn't know what's up... or who shot holes in his car... Things turn even more deadly as someone seems to have it in for him, but he has no idea who or why.
"Some people dream about going to their high-school reunion in their underwear. Dave Barlow goes to his and finds himself worse than naked—unrecognized. A lovely, twisty thriller that moves like a roller coaster—ratcheting up the suspense, then plunging into crisis, or doing a swift loop-the-loop through the flashbacks of PTSD before the climb starts again."
Diana Gabaldon, New York Times bestselling author of Outlander
About the Author
John E. Stith is the award-winning author of multiple science-fiction novels such as Manhattan Transfer and Redshift Rendezvous, many with a strong mystery component. Deep Quarry, a private eye novel set on a distant planet, won the Colorado Authors' League Top Hand Award. Death Tolls, set on Mars, won another Top Hand Award. His Nick Naught private eye stories from Analog are collected in All for Naught.
Stith's work includes best sellers, a Nebula Award finalist, a Seiun Award finalist, a La Tour Eiffel Science Fiction Book Prize finalist, HOMer Award winners, and Science Fiction Book Club selections.
His work has also appeared on the New York Public Library Best Books for Young Adults list, Science Fiction Chronicle's List of Year's Best Novels, and the yearly Locus Recommended Reading Lists.
~~~
This ebook is in your choice of formats that work for almost every ebook reader and has no copy protection ("DRM"). Read it on any reader you want, any time. Not released yet—coming soon! (Nov. 1)
We hope you enjoy the ebook! If you like it, please tell others to visit www.ReAnimus.com/1593
---
Returning Customers